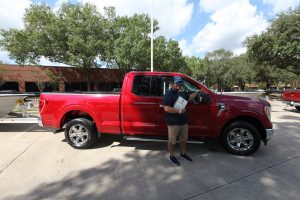 Marco Rocha of Austin, TX, was the FIRST CERTIFIED WINNER of the 2022 Texas Ford Dealer's RED-Tagged Redfish Division. Recently, Mr. Rocha was awarded a 2022 Ford F-150 "Texas Edition" XLT Super Cab connected to a Haynie 23′ Bigfoot with a Mercury 150HP L Pro XS Optimax and Coastline Trailer.
Here's his story:
On June 4th Mr. Rocha and his buddy set off down the Lydia Ann Channel in search of an inlet with sufficient bait and clear water. Their first stop of the morning would prove to be the most important decision they made that day. Not long after starting their wade, the bite was on! With live shrimp in hand and plenty of bait working, Mr. Rocha hooked into a redfish which he soon realized was the fish of a lifetime. With the drag burning and his pole bent, the redfish finally came into sight with the RED tag waving at him! He shouted, "It has a RED tag!" Both the nearby boat and his buddy yelled, "Get 'em! Get 'em!" The redfish made one last run with the red tag vanishing into the depths, and it must have felt like an eternity. Soon, he gained more and more of the line back. Finally, the redfish came close enough to be netted, and he finally landed the RED-tagged redfish! With cheers all around, Mr. Rocha clipped the tag and released the redfish. With the Red tag in hand, Mr. Rocha headed off to one of our official weigh stations.
Roy's Bait & Tackle Outfitters, to turn in the RED tag.
Inspired to be a WINNER in next year's 2023 CCA Texas STAR Tournament? Click here to register TODAY!